Volunteers
We greatly appreciate our volunteers!
Every year we are truly thankful for the amazing team of volunteers that help pull this event off.  Most of them have come back to help a second or even a third time.  We know that their special enthusiasm carries through and it shows how much they truly care for our community with the interactions that take place during the Seed Up.  The awesome energy in the room and positive feedback we get from our attendees each year is one of the biggest rewards that we get.  Then again, we do share seeds with the volunteers of course!!  And on top of that, all registered volunteers will get a link to the recorded replays of the classes.
If you are interested in volunteering please click on this button.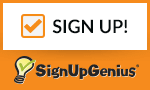 2020 Seed Up Volunteers – just a few people are needed!

NOTES for the 2020 Boxing Day Event:
Due to the fact that we are not directly interacting with customers, this is not an event that will help Master Gardeners looking for hours.
IMPORTANT: We will be adhering to personal safety guidelines from the CDC.
We will require that masks be worn the entire work day (sorry no gators or scarfs), and we will be observing as much distance between family groups as possible.
Many on our team are in the "at risk" category so we ask that you not volunteer if you a) have been tested positive for Covid-19 and have not received a negative test, or b) have been exposed to someone who has tested positive in the 14 days prior to our work day.
If you do not normally choose to wear a mask public, that is your right, however we respectfully ask you not to volunteer at this event.
---
NOTES for our standard in-person Seed Up events:
You may NOT bring your kids to volunteer if they are under 15 years old.
You should plan on wearing comfortable shoes as it is a full day of standing and walking.  This is an indoor event.
Master Gardeners and Master Gardener Interns can qualify for hours of volunteer service for assisting according to Master Gardener guidelines.  Please wear your proper identification.
Do not sign up for multiple slots during the "Event Help" shifts – this prevents someone else from signing up for that slot.
Snacks will be provided, including water. Please bring your own reusable container.
Volunteers do not have to purchase a ticket to the event.
Location is at the Phoenix Baptist Church, 5757 N Central Ave, Building B, Phoenix 85012
Volunteer parking is in the East parking lot near Building B.
Any other questions should be directed to janis@growphx.com